16002 Series Deep Groove Radial Ball Bearings

Thin section ball bearings feature a reduced distance between the bore edge and the outer edge. They are most useful for applications that have space and weight limitations, but still require high-strength bearings.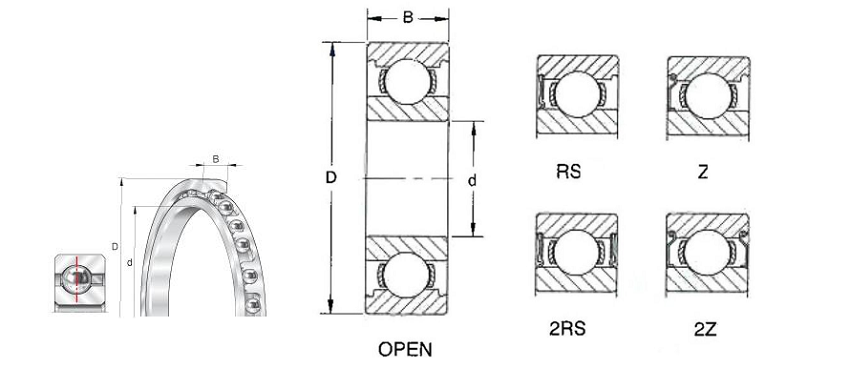 Dimensions Available:
Bore diameter: 15 mm to 200 mm.
Outer diameter: 32 mm to 310 mm.
Width: 8 mm to 34 mm.
Optional Features: Available with either metal shields (ZZ) or rubber seals (2RS). Metal shields provide good dust resistance and fair temperature resistance. Rubber seals protect against contamination and lubricant leakage. Rubber seals are removable, but metal shields are not.
Specification:
| | | | | | | | |
| --- | --- | --- | --- | --- | --- | --- | --- |
| Item # | (d) Bore Diameter | (D) Outer Diameter | (B) Width | (C) Dynamic Load | (Co) Static Load | (Grease) Lubrication Speed | (Oil) Lubrication Speed |
| 16002 | 15 mm | 32 mm | 8 mm | 5590 N | 2850 N | 22000 r/min | 28000 r/min |
| 16003 | 17 mm | 35 mm | 8 mm | 6050 N | 3250 N | 19000 r/min | 24000 r/min |
| 16004 | 20 mm | 42 mm | 8 mm | 6890 N | 4050 N | 17000 r/min | 20000 r/min |
| 16005 | 25 mm | 47 mm | 8 mm | 7610 N | 4750 N | 14000 r/min | 17000 r/min |
| 16006 | 30 mm | 55 mm | 9 mm | 11200 N | 7350 N | 12000 r/min | 15000 r/min |
| 16007 | 35 mm | 62 mm | 9 mm | 12400 N | 8150 N | 10000 r/min | 13000 r/min |
| 16008 | 40 mm | 68 mm | 9 mm | 13300 N | 9150 N | 9500 r/min | 12000 r/min |
| 16009 | 45 mm | 75 mm | 10 mm | 15600 N | 10800 N | 9000 r/min | 11000 r/min |
| 16010 | 50 mm | 80 mm | 10 mm | 16300 N | 11400 N | 8500 r/min | 10000 r/min |
| 16011 | 55 mm | 90 mm | 11 mm | 19500 N | 14000 N | 7500 r/min | 9000 r/min |
| 16012 | 60 mm | 95 mm | 11 mm | 19900 N | 15000 N | 6700 r/min | 8000 r/min |
| 16013 | 65.000 mm | 100 mm | 11 mm | 21200 N | 16600 N | 6300 r/min | 7500 r/min |
| 16014 | 70.000 mm | 110 mm | 13 mm | 28100 N | 25000 N | 6000 r/min | 7000 r/min |
| 16015 | 75.000 mm | 115 mm | 13 mm | 28600 N | 27000 N | 5600 r/min | 6700 r/min |
| 16016 | 80.000 mm | 125 mm | 14 mm | 33200 N | 31500 N | 5300 r/min | 6300 r/min |
| 16017 | 85.000 mm | 130 mm | 14 mm | 33800 N | 33500 N | 5000 r/min | 6000 r/min |
| 16018 | 90.000 mm | 140 mm | 16 mm | 41600 N | 39000 N | 4800 r/min | 5600 r/min |
| 16019 | 95.000 mm | 145 mm | 16 mm | 42300 N | 41500 N | 4500 r/min | 5300 r/min |
| 16020 | 100.000 mm | 150 mm | 16 mm | 44200 N | 44000 N | 4300 r/min | 5000 r/min |
| 16021 | 105.000 mm | 160 mm | 18 mm | 52000 N | 51000 N | 4000 r/min | 4800 r/min |
| 16022 | 110.000 mm | 170 mm | 19 mm | 57200 N | 57000 N | 3800 r/min | 4500 r/min |
| 16024 | 120.000 mm | 180 mm | 19 mm | 60500 N | 64000 N | 3400 r/min | 4000 r/min |
| 16026 | 130 mm | 200 mm | 22 mm | 79300 N | 81500 N | 3200 r/min | 3800 r/min |
| 16028 | 140 mm | 210 mm | 22 mm | 80600 N | 86500 N | 3000 r/min | 3600 r/min |
| 16030 | 150 mm | 225 mm | 24 mm | 92300 N | 98000 N | 2600 r/min | 3200 r/min |