6300 Series Deep Groove Radial Ball Bearings
The 6300 series is has a larger ball complement and heavier races, which provide greater radial, thrust, and combined load capacities. Functionally, the 6300 series is similar to the 6200 series. Bearings can have permanent metal shields (ZZ) or removable rubber seals (2RS) installed. As with other series, tolerance grades Abec 1-9, internal clearances C2 to C4, and various cage designs are available.

Radial ball bearings are able to accommodate low to heavy radial loads and low to moderate thrust loads in either direction. They are available with metal shields (ZZ) or rubber seals (2RS). Several tolerance grades (Abec 1-9), internal clearance (C2 to C4) and cage designs are available to best suit the running precision and speed of the application.
Common Options:
ZZ-- Two Metal Shields
2RS-- Two Rubber Seals
NR-- Snap Ring
M-- Brass Cage
C0-- Normal Internal Clearance
C3-- Greater than normal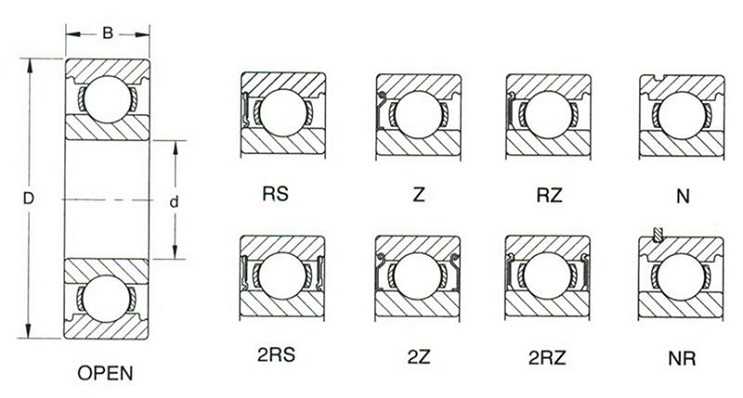 Specification:
| | | | | | | | | |
| --- | --- | --- | --- | --- | --- | --- | --- | --- |
| Item # | (d) Bore Diameter | (D) Outer Diameter | (B) Width | (C) Dynamic Load | (Co) Static Load | (Seal) Lubrication Speed | (Grease) Lubrication Speed | (Oil) Lubrication Speed |
| 6300 | 10 mm | 35 mm | 11 mm | 8060 N | 3400 N | 15000 r/min | 20000 r/min | 26000 r/min |
| 6301 | 12 mm | 37 mm | 12 mm | 9750 N | 4150 N | 14000 r/min | 19000 r/min | 24000 r/min |
| 6302 | 15 mm | 42 mm | 13 mm | 11400 N | 5400 N | 12000 r/min | 17000 r/min | 20000 r/min |
| 6303 | 17 mm | 47 mm | 14 mm | 13500 N | 6550 N | 11000 r/min | 16000 r/min | 19000 r/min |
| 6304 | 20 mm | 52 mm | 15 mm | 15900 N | 7800 N | 9500 r/min | 13000 r/min | 16000 r/min |
| 6305 | 25 mm | 62 mm | 17 mm | 22500 N | 11600 N | 7500 r/min | 11000 r/min | 14000 r/min |
| 6306 | 30 mm | 72 mm | 19 mm | 28100 N | 16000 N | 6300 r/min | 9000 r/min | 11000 r/min |
| 6307 | 35 mm | 80 mm | 21 mm | 33200 N | 19000 N | 6000 r/min | 8500 r/min | 10000 r/min |
| 6308 | 40 mm | 90 mm | 23 mm | 41000 N | 24000 N | 5000 r/min | 7500 r/min | 9000 r/min |
| 6309 | 45 mm | 100 mm | 25 mm | 52700 N | 31500 N | 4500 r/min | 6700 r/min | 8000 r/min |
| 6310 | 50 mm | 110 mm | 27 mm | 61800 N | 38000 N | 4300 r/min | 6300 r/min | 7500 r/min |
| 6311 | 55 mm | 120 mm | 29 mm | 71500 N | 45000 N | 3800 r/min | 5600 r/min | 6700 r/min |
| 6312 | 60 mm | 130 mm | 31 mm | 81900 N | 52000 N | 3400 r/min | 5000 r/min | 6000 r/min |
| 6313 | 65.000 mm | 140 mm | 33 mm | 92300 N | 60000 N | 3200 r/min | 4800 r/min | 5600 r/min |
| 6314 | 70.000 mm | 150 mm | 35 mm | 104000 N | 68000 N | 3000 r/min | 4500 r/min | 5300 r/min |
| 6315 | 75.000 mm | 160 mm | 37 mm | 114000 N | 76500 N | 2800 r/min | 4300 r/min | 5000 r/min |
| 6316 | 80.000 mm | 170 mm | 39 mm | 124000 N | 86500 N | 2600 r/min | 3800 r/min | 4500 r/min |
| 6317 | 85.000 mm | 180 mm | 41 mm | 133000 N | 96500 N | 2400 r/min | 3600 r/min | 4300 r/min |
| 6318 | 90.000 mm | 190 mm | 43 mm | 143000 N | 108000 N | 2400 r/min | 3400 r/min | 4000 r/min |
| 6319 | 95.000 mm | 200 mm | 45 mm | 153000 N | 118000 N | N/A | 3200 r/min | 3800 r/min |
| 6320 | 100.000 mm | 215 mm | 47 mm | 174000 N | 140000 N | N/A | 3000 r/min | 3600 r/min |
| 6321 | 105.000 mm | 225 mm | 49 mm | 182000 N | 153000 N | N/A | 2800 r/min | 3400 r/min |
| 6322 | 110.000 mm | 240 mm | 50 mm | 203000 N | 180000 N | N/A | 2600 r/min | 3200 r/min |
| 6324 | 120.000 mm | 260 mm | 55 mm | 208000 N | 186000 N | N/A | 2400 r/min | 3000 r/min |
| 6326 | 130 mm | 280 mm | 58 mm | 229000 N | 216000 N | N/A | 2200 r/min | 2800 r/min |
| 6328 | 140 mm | 300 mm | 62 mm | 251000 N | 245000 N | N/A | 2000 r/min | 2600 r/min |
| 6330 | 150 mm | 320 mm | 65 mm | 276000 N | 285000 N | N/A | 1900 r/min | 2400 r/min |
| 6332 | 160 mm | 340 mm | 68 mm | 276000 N | 285000 N | N/A | 1800 r/min | 2200 r/min |