61800 Series Deep Groove Radial Ball Bearings
These thin section bearings should be used in assemblies with space and weight limitations. 61800 series bearings are available in a wide range of dimensions and strengths, capable of handling dynamic loads from 540 N all the way up to 559,000 N.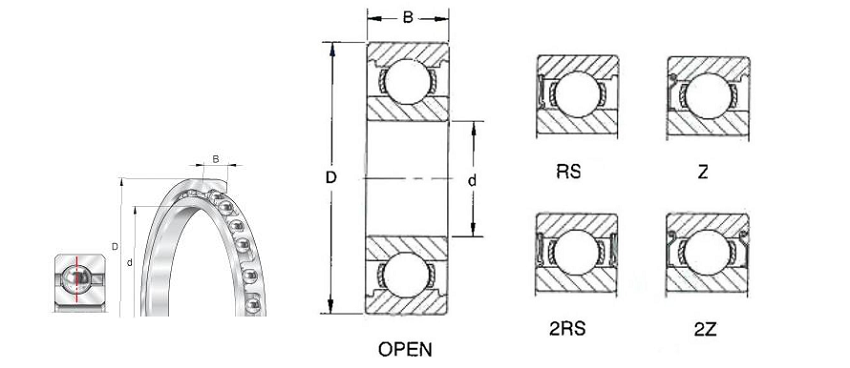 Available Dimensions:
Bore diameter: 4 mm to 800 mm.
Outer diameter: 9 mm to 980 mm.
Width: 2.8 mm to 82 mm.
More Options: 61800 series bearings can be protected by either metal shields (ZZ) or rubber seals (2RS). Metal shields offer dust and temperature resistance and do not affect the speed rating of the bearings. To protect bearings from contamination and leakage, rubber seals are a better choice.
Specification:
| | | | | | | | | |
| --- | --- | --- | --- | --- | --- | --- | --- | --- |
| Item # | (d) Bore Diameter | (D) Outer Diameter | (B) Width | (C) Dynamic Load | (Co) Static Load | (Seal) Lubrication Speed | (Grease) Lubrication Speed | (Oil) Lubrication Speed |
| 618/4 | 4 mm | 9 mm | 2.5 mm | 540 N | 180 N | N/A | 63000 r/min | 75000 r/min |
| 618/5 | 5 mm | 11 mm | 3 mm | 637 N | 255 N | N/A | 53000 r/min | 63000 r/min |
| 618/6 | 6 mm | 13 mm | 3.5 mm | 884 N | 345 N | N/A | 48000 r/min | 56000 r/min |
| 618/7 | 7 mm | 14 mm | 3.5 mm | 956 N | 400 N | N/A | 45000 r/min | 53000 r/min |
| 618/8 | 8 mm | 16 mm | 4 mm | 1330 N | 570 N | N/A | 40000 r/min | 48000 r/min |
| 618/9 | 9 mm | 17 mm | 4 mm | 1430 N | 640 N | N/A | 38000 r/min | 45000 r/min |
| 61800 | 10 mm | 19 mm | 5 mm | 1380 N | 585 N | 20000 r/min | 36000 r/min | 43000 r/min |
| 61801 | 12 mm | 21 mm | 5 mm | 1430 N | 670 N | 19000 r/min | 32000 r/min | 38000 r/min |
| 61802 | 15 mm | 24 mm | 5 mm | 1560 N | 800 N | 17000 r/min | 28000 r/min | 34000 r/min |
| 61803 | 17 mm | 26 mm | 5 mm | 1680 N | 930 N | 16000 r/min | 24000 r/min | 30000 r/min |
| 61804 | 20 mm | 32 mm | 7 mm | 2700 N | 1500 N | 13000 r/min | 19000 r/min | 24000 r/min |
| 61805 | 25 mm | 37 mm | 7 mm | 4360 N | 2600 N | 11000 r/min | 17000 r/min | 20000 r/min |
| 61806 | 30 mm | 42 mm | 7 mm | 4490 N | 2900 N | 9500 r/min | 15000 r/min | 18000 r/min |
| 61807 | 35 mm | 47 mm | 7 mm | 4750 N | 3200 N | 8000 r/min | 13000 r/min | 16000 r/min |
| 61808 | 40 mm | 52 mm | 7 mm | 4940 N | 3450 N | 7500 r/min | 11000 r/min | 14000 r/min |
| 61809 | 45 mm | 58 mm | 7 mm | 6050 N | 4300 N | 6700 r/min | 9500 r/min | 12000 r/min |
| 61810 | 50 mm | 65 mm | 7 mm | 6240 N | 4750 N | 6000 r/min | 9000 r/min | 11000 r/min |
| 61811 | 55 mm | 72 mm | 9 mm | 8840 N | 6800 N | 5300 r/min | 8500 r/min | 10000 r/min |
| 61812 | 60 mm | 78 mm | 10 mm | 8710 N | 6700 N | 4800 r/min | 7500 r/min | 9000 r/min |
| 61813 | 65.000 mm | 85 mm | 10 mm | 11900 N | 9650 N | 4500 r/min | 7000 r/min | 8500 r/min |
| 61814 | 70.000 mm | 90 mm | 10 mm | 12100 N | 10000 N | 4300 r/min | 6700 r/min | 8000 r/min |
| 61815 | 75.000 mm | 95 mm | 10 mm | 12500 N | 10800 N | 4000 r/min | 6300 r/min | 7500 r/min |
| 61816 | 80.000 mm | 100 mm | 10 mm | 12700 N | 11200 N | 3600 r/min | 6000 r/min | 7000 r/min |
| 61817 | 85.000 mm | 110 mm | 13 mm | 19500 N | 16600 N | 3400 r/min | 5300 r/min | 6300 r/min |
| 61818 | 90.000 mm | 115 mm | 13 mm | 19500 N | 17000 N | 3200 r/min | 5300 r/min | 6300 r/min |
| 61820 | 100.000 mm | 125 mm | 13 mm | 19900 N | 18300 N | 3000 r/min | 4800 r/min | 5600 r/min |
| 61821 | 105.000 mm | 130 mm | 13 mm | 20800 N | 19600 N | 2800 r/min | 4500 r/min | 5300 r/min |
| 61822 | 110.000 mm | 140 mm | 16 mm | 28100 N | 26000 N | 2600 r/min | 4300 r/min | 5000 r/min |
| 61824 | 120.000 mm | 150 mm | 16 mm | 29100 N | 28000 N | 2400 r/min | 3800 r/min | 4500 r/min |
| 61826 | 130 mm | 165 mm | 18 mm | 37700 N | 43000 N | 2200 r/min | 3600 r/min | 4300 r/min |
| 61828 | 140 mm | 175 mm | 18 mm | 39000 N | 46500 N | 2000 r/min | 3400 r/min | 4000 r/min |
| 61830 | 150 mm | 190 mm | 20 mm | 48800 N | 61000 N | N/A | 3000 r/min | 3600 r/min |
| 61832 | 160 mm | 200 mm | 20 mm | 49400 N | 64000 N | N/A | 2800 r/min | 3400 r/min |
| 61834 | 170 mm | 215 mm | 22 mm | 61800 N | 78000 N | N/A | 2600 r/min | 3200 r/min |
| 61836 | 180 mm | 225 mm | 22 mm | 62400 N | 81500 N | N/A | 2400 r/min | 3000 r/min |
| 61838 | 190 mm | 240 mm | 24 mm | 76100 N | 98000 N | N/A | 2200 r/min | 2800 r/min |
| 61840 | 200 mm | 250 mm | 24 mm | 76100 N | 102000 N | N/A | 2200 r/min | 2800 r/min |
| 61844 | 220 mm | 270 mm | 24 mm | 78000 N | 110000 N | N/A | 1900 r/min | 2400 r/min |
| 61848 | 240 mm | 300 mm | 28 mm | 108000 N | 150000 N | N/A | 1800 r/min | 2200 r/min |
| 61852 | 260 mm | 320 mm | 28 mm | 111000 N | 163000 N | N/A | 1700 r/min | 2000 r/min |
| 61856 | 280 mm | 350 mm | 33 mm | 138000 N | 200000 N | N/A | 1600 r/min | 1900 r/min |
| 61860 | 300 mm | 380 mm | 38 mm | 172000 N | 245000 N | N/A | 1400 r/min | 1700 r/min |
| 61864 | 320 mm | 400 mm | 38 mm | 172000 N | 255000 N | N/A | 1300 r/min | 1600 r/min |
| 61868 | 340 mm | 420 mm | 38 mm | 178000 N | 275000 N | N/A | 1200 r/min | 1500 r/min |
| 61872 | 360 mm | 440 mm | 38 mm | 182000 N | 285000 N | N/A | 1100 r/min | 1400 r/min |
| 61876 | 380 mm | 480 mm | 46 mm | 242000 N | 390000 N | N/A | 1000 r/min | 1300 r/min |
| 61880 | 400 mm | 500 mm | 46 mm | 247000 N | 405000 N | N/A | 1000 r/min | 1300 r/min |
| 61884 | 420 mm | 520 mm | 46 mm | 251000 N | 425000 N | N/A | 950 r/min | 1200 r/min |
| 61888 | 440 mm | 540 mm | 46 mm | 255000 N | 440000 N | N/A | 900 r/min | 1100 r/min |
| 61892 | 460 mm | 580 mm | 56 mm | 319000 N | 570000 N | N/A | 900 r/min | 1100 r/min |
| 61896 | 480 mm | 600 mm | 56 mm | 325000 N | 600000 N | N/A | 850 r/min | 1000 r/min |
| 618/500 | 500 mm | 620 mm | 56 mm | 332000 N | 620000 N | N/A | 800 r/min | 950 r/min |
| 618/530 | 530 mm | 650 mm | 56 mm | 332000 N | 655000 N | N/A | 750 r/min | 900 r/min |
| 618/560 | 560 mm | 680 mm | 56 mm | 345000 N | 695000 N | N/A | 700 r/min | 850 r/min |
| 618/600 | 600 mm | 730 mm | 60 mm | 364000 N | 765000 N | N/A | 670 r/min | 800 r/min |
| 618/630 | 630 mm | 780 mm | 69 mm | 442000 N | 965000 N | N/A | 630 r/min | 750 r/min |
| 618/670 | 670 mm | 820 mm | 69 mm | 442000 N | 1000000 N | N/A | 560 r/min | 670 r/min |
| 618/710 | 710 mm | 870 mm | 74 mm | 475000 N | 1100000 N | N/A | 530 r/min | 630 r/min |
| 618/750 | 750 mm | 920 mm | 78 mm | 527000 N | 1250000 N | N/A | 500 r/min | 600 r/min |
| 618/800 | 800 mm | 980 mm | 82 mm | 559000 N | 1370000 N | N/A | 450 r/min | 530 r/min |